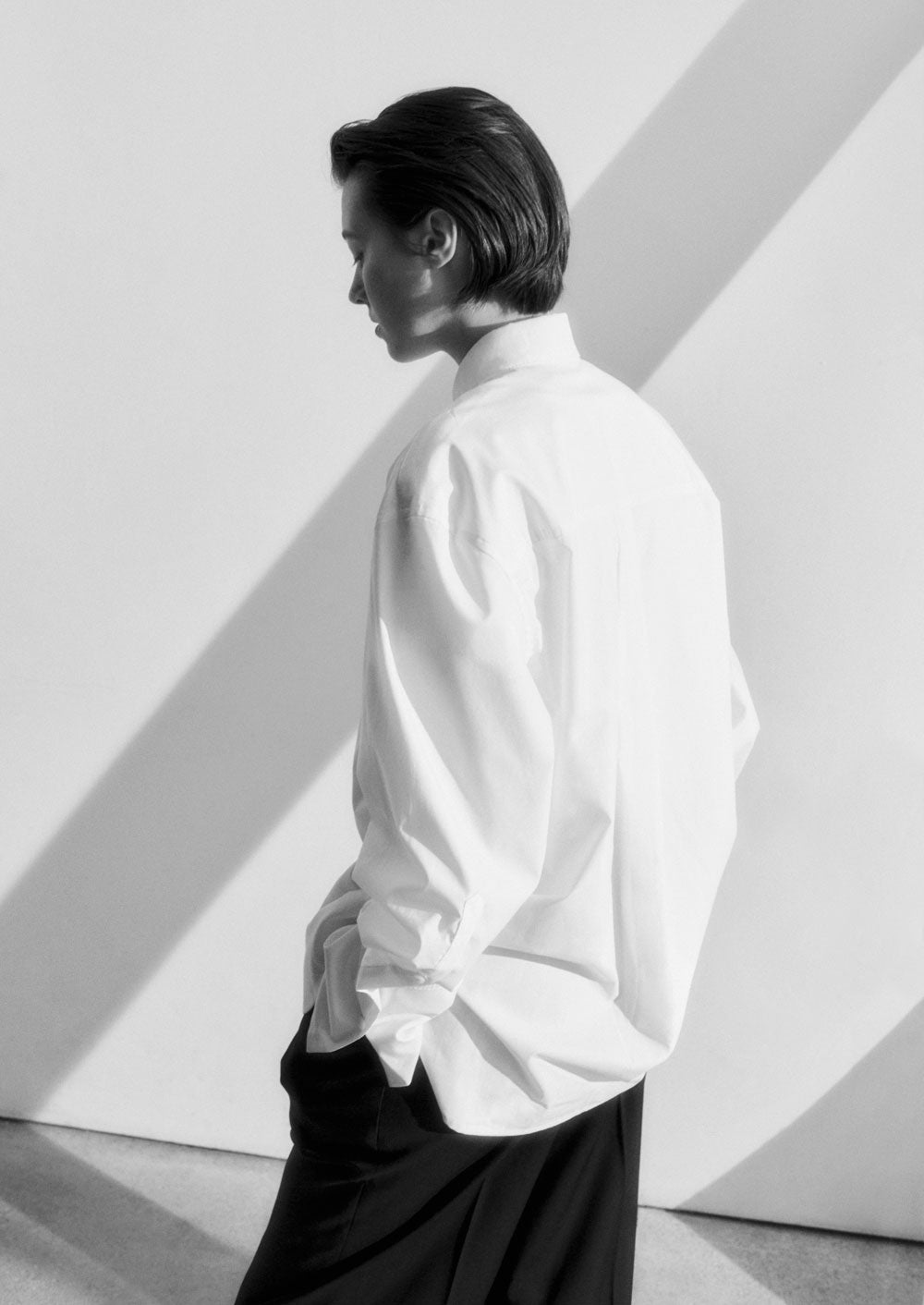 Supply Chain
Code of Conduct
Heba Shaikh is committed to producing timeless pieces only where workers are treated well. We look at a number of factors when selecting a manufacturer. We analyse quality, working conditions, price, speed, and reduced environmental impact before we engage a maker.
We are pleased to have found factories in the United Kingdom and Portugal that share our vision of responsibility. Heba Shaikh expects our suppliers to meet our requirements and commit to our core values. We recognise this requires a collaborative approach with our suppliers and we are committed to continuously improving our responsible purchasing practices.
We disclose 100% of Tier 1 (manufacturing) and Tier 2 (fabric mills) within our supply chain so you may learn more about the factories behind our clothes and ensure the health and well-being of every person involved in our supply chain. 
TIER 1 (Manufacturing)
NEW PLANET
Location: United Kingdom
Products: Oversized Shirt, Trench Coat, Double-breasted Blazer, Wide-Leg Trousers.
Founded: 2010
Employees: 30
Founded in 2010, this manufacturer is known for its warm and exceptional talent. Their long-standing and well-experienced staff is capable of working with a wide range of materials and design requirements.
They find it especially rewarding to work with and help new designers from the outset and the factory complies with all local labour and safety regulations.
LOPES & CARVALHO
Location: Portugal
Products: T-shirt
Founded: 1995
Employees: 48
Located in the north of Portugal, this manufacturer is family-owned and OEKO-TEX, BCI and ISO 9001 certified. Their fabric suppliers have other certifications, such as GOTS and they have also started their own certification process for OCS and RCS ecological labels. They are also part of a set of textile companies who trade experiences and define strategies that aim for the sustainable development of SME textile companies: The Green Textile Club.
All the fabrics and trims are sourced within a 35-km radius, this manufacturer is responsible for manufacturing all the garments at their factory, with a very low carbon footprint in the production process.
TIER 2 (Fabric Mills)
GUABELLO
Origin/Location: Biella, Italy
Products: Double-breasted blazer & Wide-Leg Trousers
Founded: 1815
Our fabric mill in Biella, Italy has exemplary environmental practices. They apply a number of key measures to the whole of its wool cloth production. For example, the use of fluoride is completely eliminated, thereby leaving the properties of the wool intact, enhancing its performance, and respecting the environment better without the production of toxic and persistent chemical compounds left in the ecosystem.
They practice the following guidelines: SA 8000, ISO14001, ZDHC, GOTS, AUTHENTICO, ZQ, ISO 9001, OEKO, TEX®, RWS
TINTEX
Origin/Location: Portugal
Products: Crewneck T-shirt
Founded: 1998
Located in the Portuguese region of Porto, Tintex is a world-leading jersey specialist managed by a father and his two sons. They have invested to drive material innovation with a focus on creating high-quality fabrics with a minimal impact on the planet and people.
They practice the following guidelines:
ISO14001, ISO 9001, NP 4457, STeP by OEKO-TEX®, BCI Member
Product certification include: bluesign®, GOTS, OCS, GRS and OEKO-TEX®
BORGHI
Origin/Location: Prato, Italy
Products: Oversized shirt
Founded: 1938
This mill is 4sustainability®-certified and participates in the ZDHC – Roadmap to Zero Programme. They also joined the Better Cotton Initiative (BCI) platform, a worldwide project that involves the entire cotton-fibre supply chain, from sowing and harvesting to sale to the final consumer. It intervenes to improve the economic and social conditions of farmers and commits to the rationalisation of natural resources linked to the cultivation of fibres.
They use ecological fibres with GOTS certification or natural fibres, such as cruelty-free silk, or mulesing-free or RWS-certified wool. They have respect for human rights within our production chain, attention to avoid waste in the consumption of raw materials, enhance materials actually coming from pre and post-consumer recoveries, fibres from farms that respect the charter of animal rights: all of this interpreted in our designs without creativity ever being limited.
Certifications: ISO14001, ISO 9001, NP 4457, STeP by OEKO-TEX®, BCI Member
BE MOOD
Origin/Location: Prato, Italy
Products: Trench Coat
Founded: 1990
A young company, with its foundations in a long historical family tradition in the textile trade. The Becagli group was born during the after-war period and it has been developing over the years, concentrating its production on traditional textiles, with high-quality fabrics for clothing, but also on high technology sectors.
The creative team pays attention to fashion evolutions with the aim to reduce the environmental impact of its production processes. They are in collaboration with Process Factory and have developed a chemical substances management system, applying the 4sustainability® protocol. The final target of the company is to eliminate these chemicals within production processes in order to protect the environment.
All collections are entirely cut, dyed and finished in Italy.
They practice the following guidelines: BCI, GOTS, OCS
TRIM SUPPLIERS 
Product: Construction thread
Origin/Location: Netherlands
Founded: 1970
This family-owned company manufacture all of their threads in Europe. They use natural dyes, natural lubrication and a very stringent mercerizing process. Their Organic cotton threads are spun from the finest long staple Pima cotton, grown without the use of chemicals and pesticides. They are OEKO TEX certified for their bleach and finish processes.
Product: Labels
Origin/Location: Italy
Founded: 1961
As the company that pioneered garment hanger reuse and recycling four decades ago, this company work within a closed-loop recycling process for flexible packaging, enabling retailers to address the challenge of single-use plastics. They are also a proud Member of the Ellen MacArthur Foundation, working with the world's leading and most influential organizations to accelerate the global transition to a circular economy. 
Product: Buttons
Origin/Location: Italy
Founded: 1968
This family-owned company use natural raw materials, coming from renewable sources. Since 1982, all the water used in every production activity, including that used in dyeing and tumbling, is purified, and reused, in a "closed cycle" path, without any release into the external waste.
Product: Zippers
Origin/Location: Japan
Founded: 1934
This company aims to contribute to a sustainable society through its products and manufacturing operations and constantly seeks new ways to serve the changing needs of its customers while at the same time investing in its employees and giving back to its communities. They are a member of the Ellen MacArthur Foundation and have continuously set industry standards for quality, innovation, and sustainability in the production of zippers.  
Product: Shoulder pads
Origin/Location: Turkey
Founded: 1982
Founded in 1982, this company works with Europe and Turkey's leading Oeko-Tex certified raw material suppliers and develops new machinery itself and with close technology partners. They are certified Oeko-Tex Standard 100, which ensures that the trims do not contain or release harmful substances to your health.
All of our cut, sew-and-finish manufacturing partners must adhere to our Code of Conduct, be an ethical provider and monitored for compliance and continued improvement. It outlines the minimum level of standards we expect from our suppliers, including environmental management, living wage, working conditions, waste management, chemical and water use and greenhouse gas emissions.
We require our Tier 1 suppliers to participate in independent, third-party assessments to ensure fair, safe and healthy working conditions throughout our supply chain. They are conducted to evaluate our suppliers' overall compliance and to stimulate progress and encourage improvement.
Our Code of Conduct was written in line with International Labour Organization (ILO) standards and internationally accepted good labour practices.